Postal data shows hundreds of complaints about election mail problems
Election officials in cities across the country had ballots delayed or go missing in the mail.  
In August, the election administrators in Ferndale, Michigan, made an unusual request of voters ahead of the city's primary.
"We don't want you to mail your ballot back," Jordan Smellie, elections specialist for Ferndale, recently recalled.
It may seem odd for an election official to tell voters not to use the U.S. Postal Service to return mail ballots. But the mail delivery had become so unreliable that Smellie said he just couldn't trust it. The mail had been spotty for years in the tiny Detroit suburb. It sometimes took weeks for letters to make it across town, Smellie said. After the coronavirus pandemic hit in March, the mail became especially slow. "For a good eight weeks, we were getting mail deliveries maybe two times a week," he said.
With reports of poor postal delivery across the country and Democrats raising concerns about the performance of controversial Postmaster General Louis DeJoy, officials in Ferndale encouraged voters to find other ways to return their ballots. "If you can't get to a drop box, ask a family member or someone who lives with you to take it there for you," Smellie said. "If you don't have any of those, call us, and we'll come get it."
The voters listened. A staggering 77 percent of Ferndale's absentee ballots in the Aug. 4 Michigan primary were returned via two newly installed drop boxes. Smellie anticipates that voters will follow the same approach for the November election.
After their mail delivery slowed, Ferndale officials filed complaints with the Postal Service.
They were among 175 complaints submitted from January through August to a third-party website called electionmail.org, according to records obtained by APM Reports and Wisconsin Watch. Many of the Postal Service complaints involve a small number of ballots, and some of the problems have already been resolved.
But the sheer number of complaints indicates that problems with voters returning ballots through the mail are likely more widespread than previously reported.
The data shows that thousands of ballots and absentee ballot applications went missing or were delivered late during the first eight months of 2020, according to an analysis by APM Reports and Wisconsin Watch. That includes ballots in some critical swing states. APM Reports and Wisconsin Watch interviewed election directors in Michigan and Wisconsin who filed complaints with the site. Several said slow mail service has become a barrier to voting in some parts of those two states, which could help decide the presidential election's outcome.
The findings come as elections directors and voters across the country are expressing deep worries over the on-time delivery of mailed ballots in the upcoming election. The coronavirus pandemic and managerial changes by newly installed DeJoy have also resulted in a mail slowdown.
Millions more voters are expected to mail their ballots this year to avoid potential coronavirus exposure at polling sites. A majority of states only count ballots that arrive by Election Day, which makes timely mail delivery a critical issue. Courts in some states have extended ballot counting after Election Day, but only if ballots are postmarked by Nov. 3. President Trump and Republicans are pushing to prevent any extension of ballot counting.
Trump has repeatedly claimed without proof that mailed ballots will lead to massive voter fraud. Democrats worry DeJoy — a Trump campaign donor — is taking steps to slow down mail delivery. DeJoy, who took over as postmaster general in June, instituted several changes that led to a slowdown in mail delivery over the summer, including reduced overtime and the elimination of hundreds of sorting machines across the country.
In August, DeJoy pledged to pause his managerial changes until after Election Day. He also committed to make election mail his top priority. Still, attorneys general in at least 20 states filed lawsuits to prevent DeJoy from implementing his changes.
An official with the postal service declined an interview request and didn't answer written questions about specific election mail complaints. Instead, the Postal Service issued a written statement saying election mail is its "highest priority."
"The U.S. Mail remains a secure, efficient and effective means for citizens and campaigns to participate in the electoral process," wrote Nicole Hill, a communications specialist with the USPS.
But there is increasing skepticism and worry over how the postal service will handle election mail.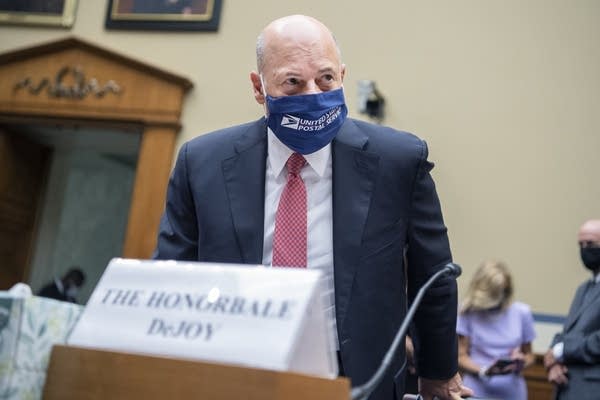 Concerns over lost ballots
The fear of lost ballots and slow mail delivery is causing many voters to return their ballots in other ways.
In Lansing, Michigan, 28,000 ballots were first mailed to voters on Sept. 24, and many arrived in voters' mailboxes within two days, said Lansing City Clerk Chris Swope. A day later, he said, elections officials had to take the unusual step of emptying a drop box on a Sunday.
"It was kind of surprising," Swope said. "One day later, the voters are already voting."
Swope said there have been relatively few problems with mail delivery in the latest round of mailed ballots for November. But he said roughly 80 ballots went missing during the August primary. 
Swope, who filed one of the 175 complaints with the USPS through electionmail.org, still isn't sure what happened to the batch in August. He joked that the tub of ballots may have been "eaten by aliens." Swope said ballot tracking helped election administrators recognize the problem. The mailed ballots were canceled and voters were issued new ones, he said.
Michigan Secretary of State Jocelyn Benson said she's been holding regular meetings with the Postal Service to ensure ballots are delivered on time. She said she's been given assurances that election mail will be prioritized and that postal workers will sweep the processing facility every night to ensure no ballots are left. She also said that Michigan officials redesigned ballot envelopes to help them move through the system faster.
"We've tried to do everything that we can that's within our control to ensure the process moves," Benson said.
Benson is one of several election administrators who has encouraged local officials to file complaints with the Postal Service through electionmail.org. The Wisconsin Election Commission did the same.
Missing ballots and failed mail delivery became widely known after thousands of ballots in Wisconsin went missing during the April primary. The state was one of the first to hold a primary after the country shut down due to the pandemic.
The U.S. Postal Service Inspector General and the Wisconsin Elections Commission both launched investigations into why the ballots went missing. The commission also made changes to allow for voters to better track their ballots in August and November.
But the extent of mail delivery problems continued in some Wisconsin communities in August, according to USPS data and interviews with voters.
Diana Dykstra, the Mukwonago, Wisconsin, village clerk, has been running elections for 19 years. She said this election season has been like none before.
"I know how this is supposed to work," she said. "And I've never had — and maybe that's just because of the number of requests we had for absentee ballots — never had so many people just not receive them."
Dykstra said the Postal Service didn't track about 50 absentee ballots she sent out for the August primary in the 8,100-person village southwest of Milwaukee. She worried the ballots could have been lost, so she reissued them. In the end, she said no Mukwonago voters were disenfranchised.  
Dykstra used CARES Act funding to purchase a drop box for absentee ballots. As of early October, about 90 ballots a day were showing up in the box, which is under 24-hour surveillance.
Asked if voters should trust the Postal Service this time around, Dykstra paused before replying. "I think any time after Oct. 15, I wouldn't be putting anything in the mail," she said. "Because I just don't trust that it would get to us in time."
Election mail complaint site
The electionmail.org website was launched in 2016 after the postal service consolidated services to cut costs. The move meant there would be delays in first-class mail delivery. Tammy Patrick, an election mail expert who is now a senior advisor to the Democracy Fund, a nonprofit that gives grants to support democratic institutions, says she created the site so election directors could submit complaints that were not being handled on the local level. The postal service found the website helpful and asked for messages to be sent directly to election mail coordinators, Patrick said. 
The website is for election administrators only, Patrick said. Voters should contact their elections officials if they have questions about their ballot. The complaints don't highlight every election mail complaint from election officials
But the reports show that elections officials have expressed a range of worries. Some are as minor as a single voter complaining about not getting a ballot in King County, Washington. Others highlight a large number of ballots going missing in the mail.
Patrick said she has not seen an uptick in complaints after DeJoy implemented his management changes this summer, nor has she seen an increase in complaints over previous elections cycles.
In many instances, a postal employee follows up on the complaints and works to resolve it, Patrick said.
Smellie, the elections specialist in Ferndale, said his complaints caught the attention of Postal Service management. He said the city's new postmaster has improved mail delivery and is working to improve services. Smellie said he now considers filing reports to the electionmail.org website as a "nuclear option."
Smellie also said he's not directly telling voters to avoid mail delivery for the November election.
"We're not being so heavy handed about it now. But we also don't have to, because again, people have adjusted their expectations," he said. "They know, almost intuitively, yes, of course, my ballot doesn't go in the mail to go back to City Hall."
---
Don't miss our next investigation
Enter your email below to receive notifications of new stories.