In the Dark
Judge dismisses lawsuit against DA Doug Evans
The suit had asked a federal court to prevent Evans' office from dismissing jurors because of their race.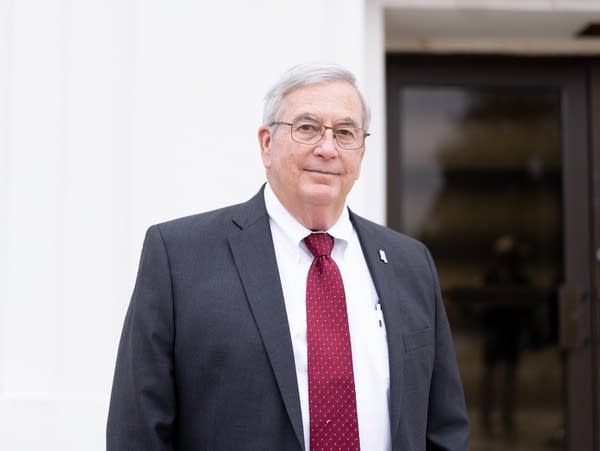 A federal judge has dismissed the civil rights lawsuit filed against District Attorney Doug Evans — the Mississippi prosecutor who tried Curtis Flowers six times for the same crime — over his use of race in jury selection.
The lawsuit was dismissed on Sept. 4, the same day the Mississippi Attorney General's Office dropped the murder charges against Flowers.
The Flowers case brought national attention to Evans' jury selection practices. All of Flowers' convictions were reversed on appeal. In 2019, the U.S. Supreme Court ruled that Evans had discriminated against Black prospective jurors at Flowers' most recent trial.
The lawsuit was filed against Evans in November by four of his Black constituents and a central Mississippi branch of the NAACP. In it, the plaintiffs asked U.S. District Judge Debra Brown to "hold [Evans] accountable for the policy, custom, and usage of racially discriminatory jury selection" and to grant "an injunction to end this odious practice." The suit cited an analysis by In the Dark, which found that, over a 26-year period, Evans and his assistants struck Black prospective jurors at nearly 4.5 times the rate they struck white ones.
Brown threw out the suit on procedural grounds. Her decision turned solely on a legal doctrine called abstention, which can require federal courts to refrain from interfering in state criminal cases under certain circumstances.
In her dismissal order, Brown, who was appointed by President Obama, acknowledged that Evans' jury selection practices seemed problematic.
"African Americans 'won the right to serve on juries through the Fourteenth Amendment in 1868 and the Civil Rights Act of 1875'. … This Court's ruling today is in no way intended to undermine this longstanding and crucial right. Nor is this decision intended to suggest that there is no merit to the plaintiffs' claims in this case. Indeed, the opposite seems to be true," Brown wrote, citing the Supreme Court ruling in Flowers v. Mississippi, which condemned Evans' "relentless, determined effort to rid the jury of black individuals" in Flowers' trials.
"This Court simply concludes that abstention is required because the relief requested by the plaintiffs would result in an ongoing audit of state criminal proceedings," Brown wrote.
Evans has so far eluded sanction for his jury selection practices, despite having been found by three different courts to have violated the 1986 Supreme Court precedent in Batson v. Kentucky, which held that it's unconstitutional to strike Black prospective jurors because of their race. He is still the lead prosecutor in seven central Mississippi counties where he's run mostly unopposed in elections for nearly 29 years. He couldn't be reached for this story, and his lawyer, Special Assistant Attorney General Doug Miracle, declined to comment through a spokesperson at the Mississippi Attorney General's Office.
Lawyers for the plaintiffs had hoped that the lawsuit might create a blueprint for prosecutorial accountability in Evans' district and beyond. Prosecutors in the United States are notoriously impervious to censure, even in cases in which their wrongdoing is clear. They have absolute immunity from lawsuits for money damages, they rarely face discipline from their local bar associations, they almost always run for office unopposed, and, when they do face challengers, incumbent district attorneys tend to win reelection anyway.
Jim Craig of the MacArthur Justice Center, who represents the plaintiffs along with lawyers from the NAACP Legal Defense Fund, said he was disappointed that Brown wouldn't intervene on behalf of Black prospective jurors in Evans' district, who have no recourse during a criminal trial if they suspect they've been struck from the jury because of their race.
"If you don't have an opportunity to raise those claims in the state court proceeding, and you don't have an opportunity to raise them in federal court, you basically have a right without a remedy," Craig said. "That's unacceptable."
When Craig and his colleagues filed the lawsuit, they knew of only two others like it: one that had been dismissed and another that's been winding its way through the court for years.
Nevertheless, Craig said, the federal civil rights statute used as grounds for the suit, Section 1983, was enacted during the Reconstruction Era for just this type of scenario. "It was to give a remedy to people whose federal constitutional claims were being trampled on by state court actors without having to go to state court judges first. That's the whole point," Craig said.
The plaintiffs can challenge Brown's dismissal in the Fifth Circuit Court of Appeals in New Orleans. But, in a footnote on the final page of her order, the judge pointed to another possible remedy.
"An action brought by the United States Department of Justice … likely would not require abstention," she wrote. The note seemed to suggest that the involvement of the Civil Rights Division at the Department of Justice could, at last, lead to Evans' being held accountable for his record of racial bias during jury selection.
In the Dark has previously inquired about any such effort at the Department of Justice. However, a department spokesperson said that the agency "doesn't comment on the existence or nonexistence of investigations."
---

The second season of the In the Dark podcast is about the case of Curtis Flowers, who was tried six times for the same crime.
Learn more
.