RACE ON CAMPUS
Students of color want a safer, more equitable college experience. Colleges and universities are trying to keep up.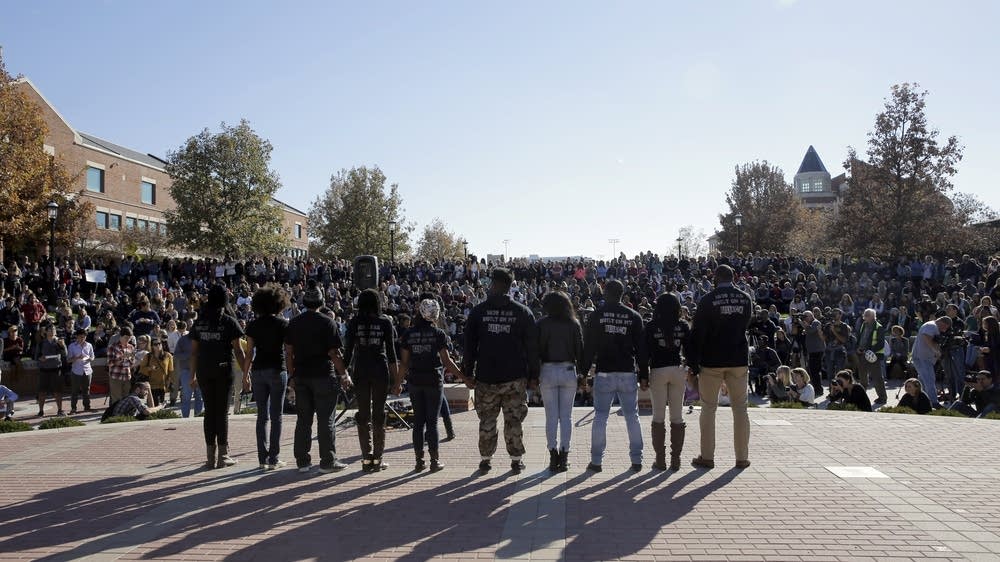 Members of Concerned Student 1950 at the University of Missouri.
Jeff Roberson | AP
American colleges and university campuses are being roiled by discussion about how students of color are treated on campus. Recent years have seen dozens of high-profile racial incidents: racist graffiti at Syracuse and Salisbury; a black student at the University of Maryland stabbed to death by a white nationalist student; fraternities at Oklahoma and Georgia suspended for posting racist videos online. Against this backdrop, research shows that students of color feel unwelcome on many college campuses. And when students feel like outsiders, their academic performance suffers. At many colleges and universities, students of color themselves are doing the work to make others feel welcome and safe.

The collection of audio stories here focuses on the racial climate on campuses across the United States. This is an ongoing project.
EPISODES
The percentage of Native students graduating from the U of M has doubled in the past decade.
When it was time for me to enroll in a four-year college, I chose North Dakota State, a school that's mostly white, conservative and insular — everything I wasn't. It was the hardest year of my life.
Unlike protesters at many universities, activists at Harvard seek social justice reforms beyond campus.
After decades of declining enrollment, HBCUs are seeing an uptick in new applicants, especially among Latino and international students.
As administrators navigate issues of inclusion and free speech, students of color have been left to find their own way.
Across the country, a gap persists between the number of black and Latino students graduating from state high schools and the number enrolling in state flagship schools.
The number of black faculty on college campuses has gone down during the last decade.