GS Labs spread across the country with the promise of reliable, convenient Covid testing. An APM Reports investigation finds that the company has at times delivered inaccurate results, faced backlogs, charged high prices, and pushed customers into unnecessary tests. Frustrated state and local government officials have often been powerless to address the complaints.
July 28, 2022
In late January, as the Omicron variant spread across the U.S., a company named GS Labs sent out a press release1 boasting that it had performed its "one millionth Covid-19 test." Based in Nebraska, GS Labs began administering rapid Covid tests in October 20202 from a single location in Omaha and has since offered testing in at least 21 states.3 The founders had launched the company, according to the press release, after their friends and family couldn't find tests following a Covid exposure.
"Initially, this was personal for us," Kirk Thompson, a partner with the company, said in the press release. "At a time when the national healthcare system was unable to provide testing for communities, families and individuals in need, we stepped up."
But public health officials and residents in a number of those communities have a very different view of GS Labs.
"It was dumpster fire after dumpster fire," said Matt Wyant, who oversees the health department in Pottawattamie County, in western Iowa, where GS Labs operated a testing location in late 2020 and early 2021.
"[It] makes me so angry that they brought their greed to our community," wrote Melissa Pond, then program manager for Clark County, Washington's Covid-19 response team, in an email4 to colleagues last June about flaws in GS Labs' operation there. "Clearly they just popped up to make money knowing they would fly under the radar as long as possible and close their doors when someone caught them!"
"GS Labs is committing insurance fraud and price gouging," wrote Teresa Jenson in a consumer complaint5 to the Missouri Attorney General's office in August 2021. In her complaint, which was obtained through a public records request, she alleges that the company made misleading statements and billed her insurance $810 for each rapid Covid test.
Some of the harshest assessments came from GS Labs' former employees. They described a company with a range of flaws that was focused on maximizing profit. That focus on revenue included pushing customers to get unnecessary tests so the company could earn more money from insurance. One former site manager from Missouri described the GS Labs site where she worked as "a complete disaster."6
A team of journalists with APM Reports spent nearly a year investigating GS Labs. Reporters interviewed more than 65 customers, former employees and public health professionals, and reviewed thousands of pages of public documents. The investigation found:
The company's prices often far exceeded what other entities charged for Covid tests, according to government officials and insurance companies,15 with some health insurance companies accusing the company of "price gouging."16 Insurers in Minnesota, Missouri and Washington have sued GS labs in federal court for attempting to exploit the pandemic by subjecting patients to "expensive and medically unnecessary testing" that ran as high as $979 for a PCR test, according to court filings.17
Yet government officials have struggled to address repeated complaints about GS Labs. Emails obtained by APM Reports show growing frustration with GS Labs among government officials in states across the country. Many looked to federal regulators to take action. But federal regulations for basic Covid testing weren't designed to closely monitor labs, especially at a time when a rush of companies started doing mass testing during a pandemic.
After numerous complaints from patients, former employees and local health officials, three federal lawsuits, and investigations in at least four states and by two federal departments, GS Labs continues to market itself to consumers. The company currently has testing locations in six states, according to its website.
Officials with GS Labs declined interview requests. In response to written questions from APM Reports, the company asserted that it had addressed complaints about its performance, which occurred largely while the company was expanding its operations during the first two years of the pandemic. "While GS Labs aimed for perfection, few businesses can credibly claim to have achieved perfection operating during the pandemic," the company said in a statement. GS Labs claims that the vast majority of the 2.1 million tests it has performed, as of May, were reported quickly to public health authorities and helped prevent spread of the virus.
"At a time when our communities desperately needed increased Covid testing capacity, GS Labs took action to deliver that testing, investing more than $150 million in a business whose prospective success and lifespan were extremely uncertain," the company's written statement said. "By filling a critical gap in Covid testing, GS Labs literally saved lives, and we are extremely proud of the service that we have provided to the communities we serve."
Some former employees have a far harsher view of the company's performance.
Stacy Sweany, the GS Labs site manager in Lee's Summit, Missouri, complained to the state attorney general alleging that the company engaged in price-gouging and unreliable testing, according to a copy of her complaint obtained through a records request. "I sure hope this company gets shut down," she wrote.18
---
Spreading far and fast
GS Labs expanded rapidly. Beginning in fall 2020, the company opened at least 75 testing sites in at least 21 states. Many sites remained open for only a few months. As of July 2022, GS Labs operated in six states.
SOURCE: U.S. Centers for Medicare and Medicaid Services. Data does not include locations in Michigan, where GS Labs briefly operated. DATA AND MAP: Jennifer Lu
---
A focus on profit
GS Labs was launched in Omaha by an investment firm called City+Ventures, which owns car washes, car dealerships, restaurants, shopping centers and real estate.19 City+Ventures' founders, Chris Erickson and Danny White, had no health care investments prior to 2020.20
But early that year, the two men partnered with Gabe Sullivan and Dr. Darin Jackson, who were in the medical spa business.21 Jackson also served as an emergency room physician for 20 years.
Together the four men formed a men's health and anti-aging company called 88MED just before the pandemic began.22 As Covid-19 spread around the country, the business partners recognized the huge demand for testing and pivoted their business model.23
In May 2020, 88MED started selling antibody tests,24 which inform people if they've been previously infected. Diagnostic tests, which identify if a patient is currently infected with the coronavirus, were in short supply. By October 2020, the company was in the diagnostics game, offering rapid Covid-19 tests25 and, before long, PCR tests as well.26 In late 2020, the company became GS Labs, and, thanks to $150 million in spending, expanded across the country, according to the company.
GS Labs attracted employees with promises of high pay. Many of the 18 former employees interviewed for this story noted the fast-growing company's generous salaries. Patient greeters, known as "runners," received as much as $20 an hour27 and site managers were promised salaries as high as $90,000.28
Not every employee contacted by APM Reports was critical of the company. Two workers described positive experiences at GS Labs. Tina Jenny, a former lab tech in Shakopee, Minnesota, said "the pay was awesome" and that she "just loved" working there. Bridgette Agbodza, a lab technician in Columbus, Ohio, who's studying to become a doctor, said the job taught her what professional lab work might be like.
But other employees — who worked as site managers, nurses, lab technicians and runners — described a workplace in which profit seemed to be the highest priority.
They showed up each day to workspaces still marked by their previous tenants: a drive-through bank in Iowa, a Pizza Hut in Missouri, a mini-golf course in Minnesota, a shoe store in Ohio, a pop-up church in Indiana. A few of the labs were in trailers, cramped and poorly heated.
"It looked really busted down," said Lucas Printz, a customer who was tested at a site in Bloomington, Minnesota, "and not in good condition at all."
GS Labs said that it selected sites based on available commercial real estate near population centers that had appropriate layouts and available parking for drive-up testing.
The company frequently needed to find new locations. As Covid case numbers declined and then spiked, GS Labs opened and closed locations in two- to three-month bursts. As of early May, GS Labs had shuttered at least 44 branches across the country — 26 of which were permitted for three months or less. All but one of the closed locations were licensed for less than a year, according to federal data.29
With the company's often shifting operations, some employees said they needed to hire workers quickly. KT Thiessen, an assistant site manager in Lee's Summit, Missouri, stated in court documents that Sullivan,30 one of the company's founders, "told me to hire anyone who showed up and to pay them $23 per hour irrespective of their qualifications. He instructed me not to perform any background checks on these hires. Many of these people went on to be hired and then fired."
GS Labs said allegations by former employees that GS Labs took advantage of the pandemic to make money is false and that it did conduct background checks on all employees. "It's not uncommon for disgruntled former employees to make allegations disparaging a former employer — and for those comments to find their way into media hit pieces," the company's statement said.
In the first 19 months of the pandemic, the company — according to 12 former employees at eight GS Labs locations in seven states — pressured employees to administer all three kinds of Covid tests (rapid antigen, PCR and antibody) to patients during their visit to the testing site. The more tests GS Labs performed, the more revenue it earned from insurance companies or consumers.
"If we didn't do triples, we didn't do doubles, somebody's calling," said Shawntay Hardy, the former assistant site manager at the location in Carmel, Indiana, which closed in June 2021, reopened in March and recently closed again.31
Hardy and two other site managers said company representatives would scold them if their testing numbers were low. Frequent emails reminded them of their site's rate of triple tests performed.
Sweany said it was company policy to perform three tests. "For insured customers, GS Labs management instructed me that company policy was to collect samples for all three tests (antibody, antigen, PCR) unless the person being tested refused," wrote Sweany in an affidavit32 in a lawsuit filed by Blue Cross and Blue Shield of Kansas City, Missouri, against GS Labs. "We were given written scripts to use with customers and told to read the script without stopping to ask for questions or consent and then immediately perform all testing available."
An April 2021 email33 to staff by Tara Houghton, then the lead nurse at the GS Labs site in Blaine, Minnesota, says, "Our numbers were low this week … please encourage all three tests."
In a written statement, the company denied claims that it pressured patients or encouraged employees to do so. "GS Labs' policy has never been to 'push' tests on anyone," the statement said. "Instead, GS Labs trained and instructed its nurses to provide patients with information regarding each available test to enable patients to make an informed decision about what tests, if any, they wished to undergo." The company added that a "hallmark of GS Labs' business model has been patient choice."
The company also said each Covid test provides different information. GS Labs maintains antibody tests provide important clinical information to patients despite only identifying a previous infection. Rapid tests helped identify current infections quickly but have high false-negative rates. A PCR test is more reliable but takes longer to process. "Pairing rapid antigen and PCR testing allows patients to reap the advantages of both tests," the company said. The company also said it only billed for PCR testing if the rapid test was negative.
But a number of consumers were frustrated by what they described as the company's push to do multiple tests.
On September 30, Tami Lorene Zevenbergen took her 9-year-old daughter to the GS Labs site in Snohomish County, Washington. Despite requesting only a rapid antigen test, she says site workers administered all three: the rapid test, the PCR test and an antibody test. "You're actually required to get all three now," she said one worker told her.
Zevenbergen had to restrain her screaming child, who has a history of anxiety, as a nurse inserted a deep nasal swab for the PCR test and pricked her finger for the antibody test. 
As Zevenbergen drove home, her triple-testing experience didn't sit right. She went back to the testing site to complain. All three tests weren't required, Zevenbergen said she was told by the nurse manager, but were done based on a health assessment and after Zevenbergen's authorization.
Zevenbergen then vented her frustrations on Facebook,34 which prompted someone at the Washington Attorney General's office to contact her.35
A spokesperson for the Washington Attorney General confirmed that officials from their agency spoke with Zevenbergen but declined to comment further. The office withheld some public records about GS Labs from APM Reports citing the possibility of litigation.
Public health officials in other states believed that triple tests were unnecessary.
"Why are they ordering an [antibody], antigen and PCR test?" wrote Minnesota Department of Health epidemiologist Kathy Como-Sabetti in an email to colleagues in March 2021.36 "Is this ordered by a clinician? This is curious price gouging … if you have symptoms an antigen test is sufficient … if you do not, a PCR test is recommended. There is no guidance that recommends antigen and PCR simultaneously."
The CDC recommended in June 2020 that antibody tests shouldn't be used to determine an infection except when rapid or PCR tests aren't available.37 GS Labs said it stopped antibody testing in October 2021 after determining such tests were relatively ineffective on patients vaccinated against Covid-19.
Former employees told APM Reports that the company's push for triple testing was part of its effort to maximize revenue, including reimbursements from health insurance companies. And the insurers soon took notice.
---
Many GS Labs sites were rarely open long
Some testing locations operated only a few months. The chart below shows how many days a GS Labs site held a federal testing certificate before closing. Many locations held a certificate for three months or less. As of May, the company had closed at least 44 facilities. Of those locations, only one — the PCR testing lab in Omaha — was certified for longer than a year.
SOURCE: Centers for Medicare and Medicaid Services. This data reflects the dates from which a facility was licensed. Because of a licensing change due to the pandemic, a facility could have opened before its license was issued, but a facility can't remain open after its license is terminated. This data doesn't include GS Labs facilities in Michigan. DATA: Jennifer Lu
---
Taking on insurers
Allegations of unnecessary triple testing are also at issue in lawsuits that three health insurance companies have filed against GS Labs. Blue Cross and Blue Shield of Kansas City, Missouri; Premera Blue Cross in Washington, and Blue Cross and Blue Shield of Minnesota have sued GS Labs in federal court for attempting to exploit, or profiteer from, the pandemic by subjecting patients to medically unnecessary tests, according to court records. The insurance companies also allege that GS Labs charged prices for tests that were far higher than the rates at other labs.
Prior to lowering its prices in January, GS Labs charged $380 for a rapid test,38 approximately 30 times higher than the cost at retail locations.39 For some PCR tests, the company billed as much as $979.40
In legal filings, GS Labs denied the allegations and claimed the insurance companies are failing to comply with federal law, which requires them to pay for testing.41 "Blue KC has utterly failed to comply with the CARES Act — it refused to pay GS Labs' publicly posted cash prices or negotiate in good faith and instead blindsided GS Labs with this frivolous suit," attorneys for GS Labs wrote in response to one of the lawsuits. The company countersued in two of those cases and filed its own lawsuit against Medica,42 a Minnesota insurance carrier.
In a statement to APM Reports, the company acknowledged that its prices were higher than some other testing providers but said it faced significant start-up costs as a new company and invested much of its money into operations. "Taking into account that financial reality, GS Labs has barely turned a profit," the company said.
GS Labs' business model relies on payments from private insurance. It accepts only patients who have health insurance or who pay out-of-pocket for tests.
One of GS Labs' founders, Gabe Sullivan, has been accused by his former employer of violating his fiduciary duty and duty of loyalty to the employer, including failure to comply with an insurance company's billing policies and procedures, which led to significant overbilling of the insurance company. The former employer, Limitless Male Medical Clinic, claims it fired Sullivan when it found out what he was doing, according to a complaint43 in the clinic's lawsuit against Sullivan.
"What we were doing wasn't wrong it just doesn't follow [insurers'] personal guidelines …," Sullivan wrote in a 2018 email, according to court filings. "We need to beat them at their own game and out smart (sic) them until they change the rules again." Asked about the lawsuit, Sullivan wrote in an email to APM Reports, "The allegations in LMMC's lawsuit are false, defamatory, and are an unfortunate attempt to eliminate any competition from me in the male hormone industry in the Omaha area."44 An official with GS Labs declined comment on the litigation involving Sullivan.
GS Labs' business practices caught the attention of state and federal regulators. Records show that the Kansas Insurance Department launched an investigation into the company's practices, which was confirmed after the department denied APM Reports' public records request about GS Labs by citing an exception to public access where there is an investigation into potential violations of criminal or civil law.45 An attorney for the Kansas Insurance Department declined comment, but the department did release a statement46 in December 2020 saying it was made aware of "concerning behavior" that GS Labs was charging nearly $1,000 for a PCR test at its lab in Lenexa, Kansas.
GS Labs declined comment on specific investigations except to say it is cooperating "in each and every instance" and welcomes "the opportunity to provide full transparency" into the company's operations.
While former employees said GS Labs sought to maximize payments from private insurance, the company eschewed payments from one major potential source of revenue — the government.
GS Labs doesn't accept money from government programs like Medicare or Medicaid. For most of the pandemic, the federal government and several states promised to cover the cost of testing for the uninsured or those on government insurance, but GS Labs required those patients to pay out of pocket.47 The company said it didn't participate in Medicare and Medicaid because reimbursement for testing was lower than the expenses incurred by GS Labs and because dealing with government bureaucracies was too burdensome.
Hardy, the former assistant manager at the Carmel, Indiana, site recalls turning away people with government insurance.
"We literally had people driving in from Bloomington, Indiana, which is almost an hour-and-a-half to two-hour drive. And not be able to get it because they have Medicaid," Hardy said. "It was really unfortunate."
'Just the tip of the iceberg'
While insurance companies were concerned about testing costs, public health officials were more worried that GS Labs wasn't always providing reliable information about test results.
For Dana Nguyen, who leads the Covid-19 response team for Clark County, Washington, the concerns about GS Labs began in May 2021.
Under state regulations, Covid-19 testing facilities must "immediately" report positive results,48 which allows local health officials to perform contact tracing and hopefully curtail the spread of the virus.
GS Labs began operating in Vancouver, Washington — a city in Clark County just across the state line from Portland — in spring 2021.49 For a time, the company followed the reporting rules. "Then they just stopped," Nguyen said. In mid-May, the company was nine days late in reporting a batch of PCR results, and when it did report them, they were missing demographic information.50
GS Labs sent Clark County the missing demographic information the next day. But three weeks later, Clark County got a call from a resident about a Covid-19 test the person had taken at GS Labs' Vancouver facility. The community member, who had tested positive, wanted to know why the health department hadn't called to start contact tracing.
The positive test made Nguyen realize that GS Labs was failing to report all results. She worried that the problem presented a more widespread threat to the county's health. "Typically, that's just the tip of the iceberg," she said.
Later that day, Nguyen spoke to a GS Labs official on the phone, and he confirmed her fears: The company hadn't reported PCR results from its Vancouver location for the previous three weeks, including 26 positive cases.51 Nguyen worried that people were spreading the virus without the county knowing about it.
The state health department planned an "immediate investigation" of GS Labs, according to emails and a formal complaint that Nguyen filed with the state.52 But 10 days later, on June 21, and before the health department could conduct its inspection, GS Labs voluntarily terminated its license to perform tests in Vancouver.53 Because the Vancouver facility no longer held a lab license, the state health department couldn't investigate it, according to an email Nguyen received from a state official.54
Other local health departments in Washington faced similar problems. King County saw delayed results, which overlapped with Clark County's troubles and lasted into the summer.55 Snohomish County fielded complaints from GS Labs customers about conflicting results and received enough tardy reports that they came to expect it. Reacting to news of a weeks-long delay, one official sarcastically wrote in an email, "GS Labs. There's a shocker!"56
The company reopened its Vancouver facility around September 1, ending a 70-day closure. The Washington State Department of Health has been investigating GS Labs since November, according to spokesperson Katie Pope. Department officials declined interview requests.
GS Labs continues to operate five sites in Washington,57 including Clark County where Nguyen filed another complaint in October,58 after learning about more missing and incomplete results. She filed a third complaint in January about possibly inaccurate results. That time, she said, GS Labs addressed the problem quickly.
---
Expanding when Covid surges
GS Labs has opened and closed facilities in spurts. The company's expansions and contractions at times correlate with nationwide increases in Covid cases, represented by the pink shaded areas below.
SOURCE: Data on GS Labs facilities comes from the Centers for Medicare and Medicaid Services. Dates for national increases in Covid cases were calculated using Centers for Disease Control data and one of the metrics for when community levels are medium or high. DATA: Jennifer Lu
---
'What a nightmare this was'
By the time GS Labs began operating in southern Washington, the company had already frustrated and bewildered public health officials in other states.
One of the first to lodge a complaint59 was Matt Wyant, a health official in Pottawattamie County, in western Iowa, where the company had opened a testing facility in Council Bluffs in late 2020. The company's reporting process was often confusing to patients and county officials, Wyant said.
At one point, the lab reported a positive case to county officials. But when contact tracers called to follow up, the person had no idea they had tested positive, Wyant said. The person thought they had tested negative and had gone about daily routines as if they were Covid-free. When contact tracers called, the person was shopping at Target.60
Wyant thought GS Labs wasn't rectifying its testing and reporting failures, and he complained to Iowa's Department of Public Health.61 A state investigator planned an unannounced visit to the Council Bluffs site in January 2021 but postponed the trip due to a snowstorm. She wouldn't get another chance.62
GS Labs terminated its operating license for the Council Bluffs location on February 10, 2021. The inspection never took place, and Iowa closed the case.
It's uncertain if Wyant's complaints played a role in the company's decision to shutter the Council Bluffs site. Iowa started a free community testing site close to the GS Labs location, which could have led to competition.
The company said it stopped testing in Council Bluffs because it "determined that the facility could be better used for other corporate purposes." It shuttered six other facilities that same day.
Across the Missouri River, Nebraska health officials were having their own run-ins with GS Labs, emailing each other to express mounting frustration with the company, which at times reported test results up to a month late.63
In late 2020, the reporting delays in Nebraska, which on a few occasions topped a thousand results at a time,64 made it impossible for healthcare workers to conduct contact tracing or even inform people that they had the virus.65
"What a nightmare this was," wrote Jenny Steventon, with the health department representing Sarpy and Cass Counties, after consulting with the Nebraska Department of Health and Human Services' contact tracing team on how to handle the company's reporting delays. "It's a shame that so many [patients] aren't going to get a call."66
In a statement to APM Reports, GS Labs said the reporting delays and backlogs from 2020 represent a sliver of the 2.1 million tests it has conducted since the company's start. And it said the initial problems in Nebraska and Iowa happened 19 months ago when the company was in its first year of operations.
The company also said it was "not aware of instances where GS Labs provided different results for the same test to patients and public health officials." It blamed initial reporting problems on human error since the company opted to manually enter patient results into spreadsheets that were sent to public health authorities.
But elsewhere, similar problems persisted for at least another year.
A backlog in Minnesota was especially large. During the Omicron surge in December 2021, GS Labs reported nearly 28,000 results to state officials, some up to five weeks late.67 The batch of delayed results included nearly 1,400 positive cases that the state hadn't known about. That followed a backlog of 2,300 PCR tests six months earlier, in March 2021, that weren't reported to Minnesota officials for weeks because the company didn't have the reporting system set up correctly,68 according to state records obtained through a records request.
"Ugh, they are exceptionally bad at this," Marijke Decuir, an epidemiologist with the Minnesota Department of Health, emailed colleagues in April 2021. "I'd like to suggest they return to testosterone testing."69
In a statement to APM Reports, GS Labs said it was transitioning to a new laboratory reporting system at the time and was running thousands of tests a day in Minnesota, which contributed to its December backlog. The company added that its "infrequent reporting delays" resulted from "unique or temporary factors" like software upgrades.
The company also said it received positive feedback from many public health officials who "valued GS Labs' diligence and transparency in the reporting process." The company declined to provide to APM Reports the names of officials who had complimented the company.
Like their counterparts in Nebraska and Iowa, health officials in Minnesota continued to wonder what, if any, enforcement power they had over GS Labs.
"I know we've looked into [enforcement] in the past, but I think it continues to hit a wall since a good amount of their [PCR] testing is done out of state," wrote Genny Grilli, epidemiologist supervisor for the Minnesota Department of Health, earlier this year.70 Minnesota health officials decided there was little they could do and referred complaints about the company to the federal agency that oversees laboratories.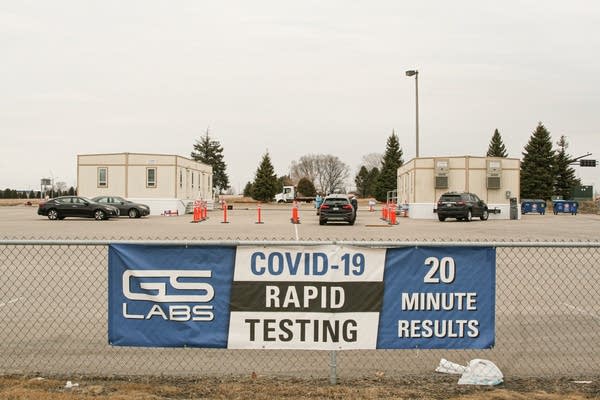 Weak oversight
Labs that do patient testing, including GS Labs, are certified under a set of federal regulations known as the Clinical Laboratory Improvement Amendments (CLIA) of 1988. The rules set baseline standards for clinical laboratories regardless of where testing takes place, whether at a hospital, doctor's office, or commercial facility. In practice, the rules allow many labs to operate with minimal government scrutiny.
For facilities that perform only basic procedures — such as many brands of rapid antigen tests for Covid-19 — the bar for entry is low.71 By completing the paperwork and paying a $180 fee every other year, a lab can obtain a certification72 and begin testing right away.
Nearly every GS Labs facility falls into this category, in which labs are permitted through a waiver to run what the federal government considers simple, accurate tests without intense government scrutiny.
For facilities conducting these waived tests, there are no federal educational or training requirements for staff.73 These labs also aren't routinely inspected by federal regulators.74
As a result, most of GS Labs' facilities faced scant oversight from the federal government.
GS Labs also offers PCR tests, which are usually considered a more complex type of testing. The company collects PCR specimens at locations across the country and sends the specimens to its main facility in Nebraska for analysis. Most PCR tests are regulated more closely. 
But even with the stricter requirements, the GS Labs site in Omaha failed to validate lab equipment to the degree that the state requires, records show. In May, GS Labs sent a letter to customers acknowledging lapses in quality control for a device used to analyze patient samples from PCR tests. "There is a chance that this circumstance may have impacted your test results," the letter read.75
A GS Labs official told APM Reports that no PCR testing equipment failed any quality control or validation processes and added that "there is no reason to believe that any of the test results during the time period were inaccurate or unreliable." That would appear to contradict the letter GS Labs sent to customers, but the company described it merely as "a good-faith effort to remedy potential CLIA violations."
Five months later, federal inspectors would document serious violations at the Omaha facility.
---
Most labs do basic procedures — and are barely regulated
Medical testing labs in the U.S. are governed by the Clinical Laboratory Improvement Amendments (CLIA) of 1988. Under CLIA, the most basic tests — such as certain rapid Covid tests, pregnancy tests and drug tests — are waived from strict regulation. Facilities that conduct these waived tests have no educational or training requirements for staff and aren't routinely inspected. The number of labs doing waived tests — shaded in red below — have increased rapidly since the start of the pandemic. Many GS Labs testing sites fall into this category and receive little government oversight.
---
'Pretty astounding … sloppiness'
During site visits on September 22 and October 1, federal licensing officials determined the Omaha lab was in a state of "immediate jeopardy," according to a copy of the inspection report obtained through a records request.76
Frances Downes, a professor at Michigan State University and a former state public health laboratory director in Michigan, said the determination means test results from the facility "are not to be trusted." According to federal regulations,77 immediate jeopardy is when a lab has caused or is likely to cause serious injury, harm or death to the general public or to those served by the laboratory.
Staffers at the lab hadn't performed basic verification steps for accuracy on 20 machines used for Covid-19 testing, according to the report.
"If you don't do the checks," said Downes, who reviewed the survey report for APM Reports, "you don't have proof that [test results] are, in fact, reliable."
The inspection report noted that someone had posted "Not for patient testing" signs on the machines during the inspector's visit.
Inspectors also couldn't find 81 days of quality-control records, instrument printouts or patient reports. They found the lab was improperly storing specimens and chemical reagents by not monitoring freezer temperatures and cited the lab director for failing to ensure the overall operation and administration of the facility.
"It's amazing, actually, how poorly they performed in this site visit," said Burton Wilcke, Associate Professor Emeritus, Biomedical and Health Sciences, at the University of Vermont and former director of Vermont's State Public Health Laboratory, who reviewed the inspection report at APM Reports' request. He characterized the list of deficiencies and conditions as "pretty astounding in terms of the sloppiness."
GS Labs responded to the inspection findings by saying some of the allegations lacked merit and provided federal officials with a correction plan for others, according to its statement. The company declined to provide its response to the inspection to APM Reports.
At the same time federal regulators conducted the inspection, GS Labs also sent customers "PCR Rejection Letters," which said the company couldn't process PCR samples due to specimens "being compromised for accurate testing."78
In a statement to APM Reports, the company insisted the letters had nothing to do with the lab's inspection. Rather, the company didn't have enough ultra-low freezers to store specimens after it switched to a new testing platform. The company blamed supply chain problems for not having the necessary equipment.
GS Labs says it stopped collecting PCR tests "on or about September 22 at the advice of the company's lab director."
Though the decision to halt PCR testing occurred "on or about" the very same day that inspectors first visited the Omaha lab, the company contends the two events weren't connected. The company said it halted PCR testing to "both catch up on the testing backlog" and to make "improvements to minimize future backlogs."
GS Labs restarted PCR testing on October 28, 2021, when it opened a new PCR lab in nearby La Vista, Nebraska. The company says it invested tens of millions of dollars in the new lab that can process 15,000 PCR tests a day.
The company also maintains that the reported delays from last year "have long since been resolved" and that it prioritized transparency to public health officials even when that transparency "did not paint the company in the best light."
Public health officials in Washington and Minnesota, however, say neither the company, the state of Nebraska, nor the federal government notified them of the problems with the Omaha laboratory. An official with the Nebraska Department of Health and Human Services declined interview requests.
Meanwhile, federal officials are investigating GS Labs. A spokesperson for the Centers for Medicare and Medicaid Services told APM Reports that the federal agency is investigating numerous complaints about GS Labs sites in multiple states. "We take seriously any allegations of fraud or misbehavior by Covid-19 testing sites," a spokesperson said in a written statement, adding that the agency is "aware of several alleged instances of misconduct by this company's labs."
That marks the second federal inquiry into GS Labs. The Inspector General for the Department of Health and Human Services is also investigating the company. A spokesperson for the Inspector General's Office declined comment.
Attorneys general in at least five states have also fielded complaints about GS Labs, according to a review of records by APM Reports. Since attorneys general are the primary enforcers of state consumer protection laws, any consumer complaints about GS Labs would come under their purview.
Attorneys general in Kansas, Nebraska and Minnesota have signaled that they are investigating the company, according to public records. Two of those investigations have been underway for more than a year.
Company officials declined to comment on the federal or state investigations except to deny any accusations that GS Labs committed "fraud, waste or abuse." The company also said it's fully cooperating with the investigations. 
"We are proud of the important and life-saving work that this company has done over the past two years, and we believe that any such investigations stem from willful misrepresentations made to the government by insurance companies single-mindedly focused on padding their profits," the company said in a statement.
A GS Labs spokesman also told APM Reports that the company was investigated by the U.S. Department of Justice, but the federal agency chose to take no action. APM Reports couldn't independently confirm those claims. A spokesman for the Justice Department declined to comment.
Eroding public trust
Public health officials worry that the more people who have negative experiences with testing companies, the more the public will lose faith in Covid testing.
Last fall, Jackie Ormsbee had to make a phone call she had dreaded since the pandemic began — having to tell loved ones that she'd exposed them to Covid. Just days after gathering with family for Thanksgiving, she learned she'd tested positive for Covid-19.
"One of my biggest fears throughout Covid was spreading it to everybody," Ormsbee said in an interview. "I called my parents bawling. I'm like, 'I'm so sorry. I had no idea.'"
Throughout the pandemic, Ormsbee said she'd diligently followed public health recommendations, including getting vaccinated. She and her daughter quarantined after encountering people who had Covid.
The problems started when she wanted to gather with her extended family for Thanksgiving last fall. Despite showing no symptoms, the Blaine, Minnesota, resident and her daughter decided to get tested at a GS Labs site before the holiday. The company quickly notified her that the rapid test results were negative. Still, Ormsbee waited for GS Labs to process the two PCR tests she took.
GS Labs advertised a turnaround time of five days.79 Ormsbee said she ended up waiting 11 days for her results. Her daughter's results never arrived. The delays ran past Thanksgiving, and Ormsbee faced a difficult choice: Skip the holiday or take the chance of seeing her family. Because her rapid tests were negative, she decided to attend Thanksgiving, only to learn after the holiday, when GS Labs finally returned her PCR result, that she had, in fact, been infected.
Ormsbee said she's lucky that none of her family contracted the virus. When interviewed in December, Ormsbee said her experience with GS Labs rocked her faith in the available testing options. "How are we supposed to stop the spread and also live our lives if it takes 11 days to get results?" she said.
GS Labs says that the company took care to warn patients of delayed results during high-volume periods and maintains it invested heavily in a hotline to help patients interpret and understand their test results.
Most GS Labs sites operated in places where consumers had trouble finding testing options, especially during spikes in Covid cases. Several consumers also told APM Reports that GS Labs was their only option, with appointments offered every three minutes at some sites.
Other consumers received test results that were mislabeled with someone else's name or demographic information, according to government documents in Minnesota and Washington and interviews with two patients.
"I think it's ridiculous that I got somebody else's results," Minnesota resident Lucas Printz said.80 "I just don't trust this whole process anymore."
GS Labs said it was unaware of any complaints of a person receiving someone else's results.
The company has recently lowered its rates and has downsized its testing footprint from 10 states in May 2022 to six states this month, according to the company's website. As at-home tests became widely available under government initiatives, GS Labs dropped the price of a rapid test from $380 to $179.
Meanwhile, Dana Nguyen, the public health official in Clark County, Washington, worries that failures by GS Labs and other testing companies could erode the public's faith in Covid testing. "If our community doesn't trust what we're doing and doesn't believe that we've got their best interests in mind," Nguyen said, "they aren't going to let us help them."
GS Labs provided detailed written answers to questions from APM Reports. We couldn't include all the company's responses in this story. So we've posted GS Labs' statements separately. You can read them here.
Jasmine Snow and Holly Gilvary contributed to this report.
---
Don't miss our next investigation
Enter your email below to receive notifications of new stories.
---