In the Dark
Sanner retires suddenly; Rassier files suit, claiming mistreatment by Sanner and others
Sanner, who led Wetterling investigation, has not apologized to Rassier, and has said he stands behind his actions as sheriff for 14 years. He hasn't commented on the lawsuit.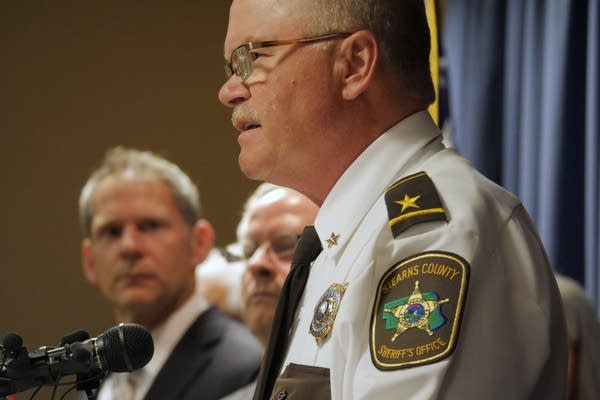 Stearns County Sheriff John Sanner, faced with two lawsuits and critical news reporting over his handling of the Jacob Wetterling case, retired suddenly this month.
Two weeks after his announcement, Sanner was sued by Dan Rassier, the man who lives close to the site where 11-year-old Wetterling had been kidnapped in 1989. Rassier argues in his lawsuit that Sanner nearly ruined his life by calling him a "person of interest" in the investigation.
The lawsuit seeks at least $1 million in damages. Sanner has not commented publicly on the suit.
Earlier this year, Sanner also was sued by Ryan Larson, a man falsely suspected of murdering a police officer in Stearns County in 2012. Both cases are pending.
The sheriff's term was set to expire in 2019. Instead, his last day was April 17. Sanner, 62, said he retired because he wanted to spend more time with his family. He told the county board there are five reasons he retired "and they all call me grandpa."
Sanner asked the county board to appoint his chief deputy, Bruce Bechtold, as sheriff for the rest of his term. The board rejected that request. Instead, it plans to interview applicants and select a temporary replacement by the end of May. (The sheriff is an elected position in Minnesota, and the board can only make a temporary appointment.) In the meantime, Bechtold is serving as interim sheriff.
A yearlong investigation by APM Reports' podcast In the Dark found that Sanner presided over a sheriff's office with a poor record of solving crime. In 2015, the Stearns County Sheriff's Office cleared only 12 percent of its violent crimes, a low portion by many comparisons. Sanner told APM Reports in a 2016 interview that he wasn't aware of his office's clearance rate and had no clear plan for how to improve it.
"I guess the one factor that is kind of out there in any investigation is, you have to factor in a certain amount of luck," Sanner said. "We haven't had a lot of luck in some of these big cases that we're working on, although it doesn't deter us from continuing to work as hard as we possibly can and do everything we possibly can to get them resolved."
APM Reports also found that Sanner and other law enforcement officials had mishandled the Wetterling investigation. Officers failed to conduct basic police work in the critical early days of the abduction and became distracted by thousands of pointless tips. And when Sanner became sheriff in 2003, his team turned one of their best witnesses — Rassier — into a top suspect.
The depiction of Sanner by In the Dark marked a sharp break from most previous news coverage. For years, Sanner had been praised for his work on the Wetterling case. Reporters gave him the nickname "Jacob's sheriff."
The revelations led some in Stearns County to question Sanner's competence. At a recent county board meeting, commissioner Jeff Mergen urged people to listen to In the Dark.
In the fall of 2016, about 100 people attended a public talk in St. Cloud led by a reporter and editor of In the Dark. Many people were angry with law enforcement for repeatedly failing to solve crime. Several people questioned whether elections were the best way to choose sheriffs or hold them accountable.
Residents of Stearns County are also grappling with how they treated Rassier, the neighbor who was called a "person of interest" by the sheriff in 2010. Based on Sanner's statement and news coverage, many people had believed that Rassier was guilty of the crime, even though he had never been arrested or charged.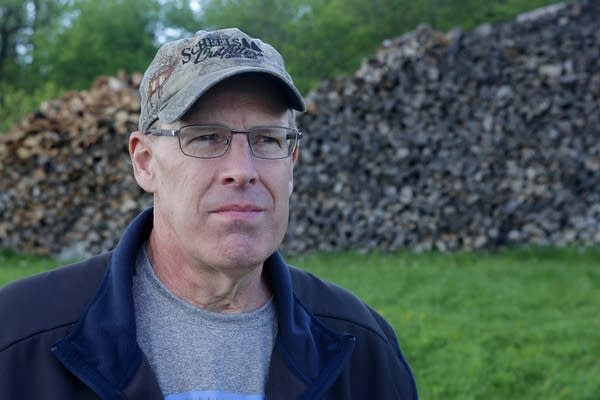 In the months since In the Dark was released, Rassier, 61, has received hundreds of letters of support from people throughout Stearns County and the rest of the country. Several people have apologized in person for viewing him with suspicion.
At the public event, several people cried as a local resident spoke about how awful he felt that Rassier's life had been nearly ruined. The man didn't realize that Rassier was sitting quietly with his niece just a few feet away. After the event, the two men met and the man apologized on behalf of Stearns County.
Rassier's lawsuit cited the findings of the APM Reports investigation. "The public had placed their faith in the conspirators to protect them, solve crimes, and not falsely accuse innocent citizens," it said. Sanner and other law enforcement officials "failed miserably in this task."
Sanner told APM Reports in 2016 that he called Rassier a person of interest because Rassier talked to the media about the case. When pressed, Sanner struggled to defend his decision. "I don't know how it helps the investigation," he said.
Sanner has not apologized to Rassier, and has said he stands behind his actions as sheriff for 14 years. At a news conference after Heinrich confessed in the fall of 2016, Sanner said, "Over the years, I've been asked to look back and comment on things that might have been done differently. My response has always been the same. Our energy needs to stay focused on what we can control and not waste it on things we have no control over."
Stearns County, former Stearns County Sheriff's Captain Pam Jensen and Ken McDonald, an agent with the Minnesota Bureau of Criminal Apprehension, are also defendants in the lawsuit.
Stearns County plans to publicly release the investigative file on the Wetterling case sometime in the next few months. The file includes more than 100,000 pages of police reports, notes, leads, and other documents collected since 1989. Authorities have spent months redacting the file to remove the names of children and other private information.
The Wetterling case was solved in 2016 when Danny Heinrich confessed to the crime as part of a plea deal and led authorities to the boy's remains in a field just outside of Paynesville. Heinrich had been one of the top suspects in the case in the early months of the investigation but had never been charged.
In exchange for the confession, authorities agreed not to charge Heinrich with kidnapping or murdering Wetterling and to drop most of the other charges against him. Heinrich pleaded guilty to one count of possession of child pornography and was sentenced to 17 to 20 years in prison. He will be in his early 70s when he's released.