In the Dark
Ryan Larson files federal lawsuit against Stearns County sheriff, attorney and others
Update from Episode 8: The man falsely suspected of killing a police officer claims his constitutional rights were violated.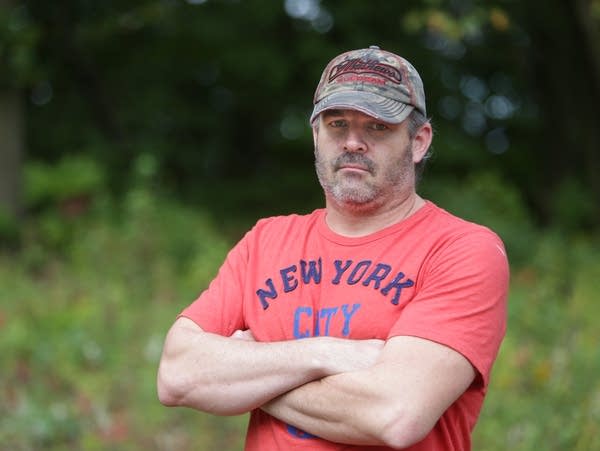 Ryan Larson, the man who was falsely suspected of killing a police officer, has filed a lawsuit against the Stearns County sheriff, the county attorney and several law enforcement officers.
The lawsuit, filed Friday in federal court, accuses Stearns County Sheriff John Sanner, County Attorney Janelle Kendall, and other authorities of violating Larson's constitutional rights when they arrested him in the hours after Officer Tom Decker was killed on Nov. 29, 2012 and held him in jail for several days without charges.
"Despite the lack of any evidence linking Ryan to Officer Decker's murder, to this day, Defendants, Sanner and Kendall, refuse to close the investigation and/or to clear Ryan's name," the lawsuit says.
The suit claims that Larson has received death threats, was forced to drop out of school, has been diagnosed with PTSD, and "has been ostracized from the community," as a result of authorities not clearing his name.
Larson's story is in Episode 8 of In The Dark. He's the man who told me that authorities had nearly ruined his life by arresting him and continuing to cast suspicion on him for the murder of Decker.
When I interviewed Larson, 38, in March, he told me that he wanted the sheriff to apologize to him and clear his name. "You go out and you publicly accuse somebody of one of the most heinous crimes that a person could be accused of, and it doesn't matter," he told me. "It's not going to go away. It will always be there."
I used Larson's question to me about the Stearns County Sheriff's Office — "What is going on down there?" — as the title of Episode 8.
In that episode, Larson said, "People of Stearns County just need to realize that something needs to change. You know, it might not affect them right now, but it's going to someday, if something doesn't change now."
Last month, he said he intended to file a lawsuit.
He's never been charged with killing Decker, and a spokesperson for the state crime bureau said in 2013 that another man would've been arrested for the crime if that man hadn't killed himself.
Larson's lawsuit also accuses Sanner of failing to address longstanding problems within the sheriff's office.
"Defendants, Sanner and/or Stearns County, enjoyed a 40-year history of proven incompetence," the lawsuit claims. It was filed on behalf of Larson by attorneys Devon Jacob, of Mechanicsburg, Pa., and Michael Padden, of Lake Elmo, Minn. "Defendants, Sanner and/or Stearns County, knew that they did not understand how to properly and lawfully conduct criminal investigations. Regardless, Defendants, Sanner and/or Stearns County, failed to change their policies, procedures, or training" and failed to get help from outside agencies.
Sanner did not respond to my request for comment. Kendall told me she wasn't aware of the lawsuit, and Bureau of Criminal Apprehension agent Kenneth McDonald, who was also named in the suit, referred my request to a spokesperson, who declined to comment. If they decide to comment, I'll let you know what they say.
The lawsuit also names other former and current officers, Stearns County, Benton County, the city of Cold Spring, and the Strategic Emergency Response Team that responded to the shooting.
The lawsuit seeks a judgment against the defendants for allegedly violating Larson's Fourth and 14th Amendment rights, compensatory damages for "lost wages and benefits, emotional suffering, fear, anxiety, embarrassment, humiliation, and reputational harm," punitive damages, an admission of wrongdoing from authorities, and a written apology.
It also asks the court to order authorities to clear Larson's name and return his property.
Decker was killed on Nov. 29, 2012, when he responded to a request to check on Larson, who lived above a bar in Cold Spring. Another officer, Greg Reiter, had responded to the call first and had asked Decker to join him, according to a document signed by officers in the Stearns County Sheriff's Office to get permission to detain Larson.
When Decker got out of his squad car, someone shot and killed him. Reiter, the other officer, responded by putting his car in reverse and watching as the suspect walked away, according to the document.
Someone from the bar went outside, noticed Decker on the ground and ran back inside. A 911 call was made from the bar.
When deputies from the Stearns County Sheriff's Office arrived, people told them they had seen a black van with a loud muffler leaving the parking lot right around the time of the murder.
An hour and a half later, officers stormed into Larson's apartment and arrested him. Larson said he was sleeping when officers arrived.
Larson told me in the interview he didn't know that a police officer had been killed, and the officers didn't tell him why he was being arrested.
Later that night, he said, an investigator showed him a photo of the dead officer and told him he should confess to the crime. Larson refused. He said he told them he didn't do it.
After five days in jail, Larson was released without charges.
Officers investigated another man as a possible suspect — a 31-year-old man named Eric Thomes, who owned a dark van that matched the description of the van that people reported seeing that night.
When investigators went to Thomes' house to question him several weeks after the murder, he refused to allow them inside, ran into a metal outbuilding and hanged himself.
At a news conference after the suicide, authorities said they had found a 20-gauge shotgun, which they believed to be the murder weapon, on a property that Thomes had access to.
In August 2013, a spokesperson for the state crime bureau said that if Thomes hadn't killed himself, he would've been arrested for the murder.
However, Sanner has refused to close the case. I included my conversation with him about this in Episode 8. Sanner told me, "We're still hopeful that new information will come in. I have considered closing the case if it stays inactive for a period of time. If no new information comes in, that's certainly something we would consider."
Sanner also refused to rule out Larson as a suspect. "I don't know if he was involved or not," he told me. "I can't say that."
In the interview, Sanner provided no evidence that Larson had anything to do with the shooting.
Larson's lawsuit also notes a two-page written statement from the Stearns County Sheriff's Office, signed by two officers, which authorities used to get permission to hold Larson in jail.
The lawsuit calls the document "purposefully misleading" and alleges it "contained false or misleading statements."
The document includes Reiter's account of what he saw that night. It said Reiter heard two loud bangs and then saw a man with a handgun standing near Decker's squad car.
The type of gun — a handgun — matches the type of gun that officers saw in Larson's apartment when they arrested him.
However, authorities later revealed that Decker was killed with a shotgun, not a handgun.
Larson told me he was troubled by the inconsistency, and that he had contacted Reiter to try to clear it up. Larson showed me print-outs of text messages between him and Reiter.
The last text message from Reiter, dated July 1, 2013, said, "I talked with my attorney and Captain Jensen last week. I did give them again the details that you and I talked about. They then told me that if I said anything, that I would be interfering with the investigation and would be sued and or charged. They also said that we are not to have any more communication."
I tried to contact Reiter several times, but wasn't able to reach him.