Abducted months before Jacob, he tried for years to find his kidnapper.
Jared Scheierl was kidnapped and sexually assaulted near Cold Spring in January 1989, six days before his 13th birthday and nine months before the abduction of Jacob Wetterling in a town 10 miles away.
It was after dark and Scheierl was walking home from the local skating rink, having stopped for a malt at a cafe, when a man pulled up in a car and asked for directions. While Scheierl was talking, the man — who much later was identified as Danny Heinrich, the person who recently admitted to kidnapping and murdering Jacob Wetterling — forced the boy into the car. He said he had a gun and wasn't afraid to use it.
Scheierl, now a plumber and burgeoning community leader in the Paynesville area, would describe his assailant in ways that would mirror descriptions later given of Jacob's abductor: He had a low raspy voice, a commanding demeanor, a gun and a chilling parting directive, to run and not look back or he would shoot. While in Jacob's case, Heinrich wore a mask, during the Scheierl assault, he did not, making the boy a key witness in the snowballing investigation, since investigators believed the two cases were linked.
"I think I slept on my parents' bedroom floor for the first year," said Scheierl, who was traumatized by the assault. "(That is) the level of fear you go through." Nonetheless, police officers from various agencies interviewed him repeatedly, sometimes at school. "I felt I was Jacob's strongest hope," he said. "As much as I wanted to provide the answer, I didn't know the answer."
The 13-year-old racked his brain to excavate every possible detail and helped the police create two separate composite drawings months apart. "There was one particular interview ... it was a hard one," he said. "They brought me into a room and my parents weren't allowed in the room and I was drilled with all the necessary details and then quizzed, or not quizzed but questioned in regards to how certain I was about the details. ... After time and time again of me not knowing the name, I finally broke down in tears and my parents saw me and said, 'We're done.'"
Soon afterward, in part to rescue his emotionally spent son, Scheierl's dad, Daniel Scheierl, moved the family, including Scheierl's four siblings, one of whom is his identical twin, to a big, bucolic piece of land near Paynesville that he'd inherited from his own father.
Scheierl still lives on those 80 acres, about 20 miles from Cold Spring, among the trees, on the North Fork of the Crow River. "This is the sanctuary where I came as a little boy, and these woods, this area is where I learned how to be alone, (where I) overcame my fear of the dark and odd sounds." Scheierl settled into a routine at school, wrestled and played football and eventually became homecoming king. His case remained unsolved.
Decades later, in 2013, after an adventure in Alaska, a return to Paynesville, a marriage, and the birth of three children, Scheierl discovered there had been a string of assaults during the mid-to-late 1980s in his adopted hometown. A man, nicknamed "Chester the Molester" by local kids, leapt from behind bushes and trees and groped, or tried to grope, at least eight boys. Sometimes he wore mud on his face, sometimes a mask.
Curious whether the unsolved assaults might be linked to his, Scheierl began his own investigation, searching the case details for similarities and red flags. "That's when I became increasingly involved in helping solve my case."
Scheierl called old friends he thought might have information. He wrote a letter to the local newspaper describing the emotional turmoil he'd coped with over the decades--fear, anger, loneliness — and urging the Paynesville victims to come forward. "The only way these cases are going to get solved is by people coming together and sharing their stories."
He researched, reviewed police files and sat through court hearings related to Heinrich, whom the police linked to Scheierl's assault by DNA evidence before he finally admitted guilt in court. The statute of limitations has run out in the case and Heinrich can't be charged.
In taking these steps, Scheierl has become an inspiration to other victims as, together, they seek answers. "It doesn't define who I am," he said of the mystery and attending frustration, "but it's part of who I am."
(NOTE: APM Reports typically would not identify the victim of a sex assault, but Scheierl has taken on a public role in the investigation of his case.)
---
More profiles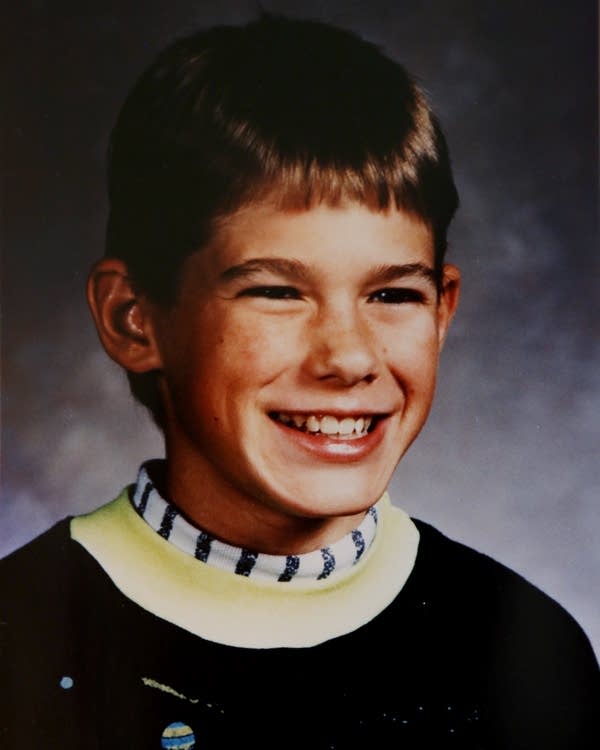 ABDUCTED BOY
Jacob Wetterling
His disappearance on Oct. 22, 1989, became a national spectacle and led to a 27-year investigation.
KILLER
Danny Heinrich
He originally denied connection to the case but now admits that he murdered Jacob and pointed authorities to his remains.