He called 911, then gradually was pulled into massive investigation.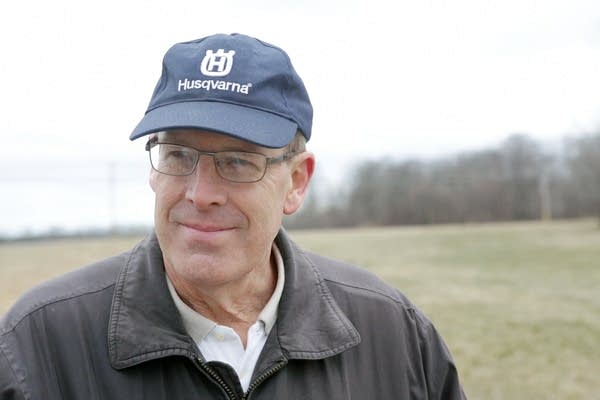 For Dan Rassier, a band and music teacher who lives on a farm south of St. Joseph, life is divided into before and after Jacob Wetterling was abducted at the end of his gravel driveway in 1989. Before then, Rassier collected records, traveled and raised cows and chickens in relative anonymity. And after — as Rassier gradually moved into the crosshairs of a massive, flailing police investigation — he faced news cameras, threats, a lie detector test, hypnosis and multiple, fruitless searches of the farm where his family has lived since 1931.
Tall and youthful, the 60-year-old Rassier is an accomplished trumpet player and avid short- and long-distance runner. He is quick-minded and good with an analogy, noting that the 26-plus years since the abduction feel "like a marathon in miles." Avoiding vulgar language, he exclaims "Bingo!" and refers to people he dislikes as "turkeys."
Rassier has lived in the same foursquare house on 158 acres for most of his life with his mother, Rita, and father, Robert, who recently died. He lived elsewhere only to attend college at St. Cloud State University and the University of Illinois. "I was lucky enough to get a job close to home," he said. "I moved back to the farm, helped my dad. It was nice." Since 1978, Rassier has been a teacher in the Rocori School District, where he is well-liked and known as "Mr. BeBop."
The Rassiers are a longstanding, respected Stearns County family. With their eight now-grown children, Robert and Rita ran a dairy for more than 40 years and raised chickens for Gold'n Plump. For decades, Robert served as treasurer of St. Joseph Township, a role now filled by Dan. Former St. Joseph Police Chief Bill Lorentz has known the Rassiers for decades. He remembers Dan, as a kid, practicing music in the chicken barn to avoid disturbing his parents. "I knew Danny from way back," he said, "and I just could not visualize him being involved with anything like (the Wetterling abduction) because he was brought up by his dad who was very down to earth."
Although the Wetterlings live less than a mile from the farm, across a large field, Rassier said he didn't know them before the abduction, aside from the occasional casual basketball game with Jacob's father, Jerry. Yet, their lives would become unexpectedly intertwined and would remain so for two and a half decades.
It was unseasonably warm on Oct. 22, 1989. Rassier, just a few days shy of his 34th birthday, remembers going for a pleasant run and returning to the farm house, which was empty because his parents were traveling. In the afternoon, he became engrossed in typing index cards to catalog his enormous music collection.
At some point, he said, his attention was drawn to the window by the spectacle of a tan Monte Carlo-type car barreling up the driveway. The house cannot be seen from the main road, known both as 91st and 16th avenues, so sometimes people drive up unaware that they're headed for a dead end. But this car was unusual and Rassier is convinced it was connected to the abduction. "This car zooms in and is driving insanely fast, does a fishtail, blows out of the yard," he said. "I go from my room...to the other side of the house and watch the car zoom up the hill and go, 'What was that about?'" He said the car was going 60 or 70 mph. "This car is on a mission from hell to do something."
Later, after nightfall, Rassier was alerted again, by the barking of his dog, Smokey. He looked out the window to see another car, this one smaller and darker, with headlights that were close together, driving fast up the driveway and turning around the same way the first one had. "It was the feeling of, 'That is kind of strange, another car doing the same thing but not as fast.'" Rassier, who had class in the morning, went to bed.
The next thing Rassier remembers is Smokey barking again. He looked out to see flashlights moving near the family's mammoth woodpile. Thinking the trespassers might be thieves, he dialed 911 about 10:45. A dispatcher told him a child had been abducted. Rassier said he went outside and spoke briefly to a Stearns County sheriff's deputy, saw about 10 officers engaged in the search and poked around some outbuildings before heading back inside. He said he now he wishes he'd done more. He wishes he'd invited the police to scour the property inside and out, both to look for Jacob and to definitively rule him out as a suspect from the start. "You only go through life once, that's the problem," Rassier said. "Things like this happen once in your life and you have no clue what's happening until it's over."
The perception that Rassier didn't act urgently enough in the immediate wake of the abduction has fueled speculation that he was somehow involved. Since that day, he has been treated alternately as a witness and a suspect. The next morning, the police went to the school where Rassier works and interviewed him in the principal's office. They looked at the tires of his Datsun 210 and checked inside the trunk. A week later, the police went to the farm for a thorough search, spending hours in his bedroom. They were "trying to find something," Rassier said. "There was nothing to find." That same night, the police gave him a lie detector test. Weeks later, he was hypnotized.
And then, for a long time, there was nothing. Time passed. The police moved on. The crime remained unsolved. But in 2003 a man named Kevin, who spoke to APM Reports in 2016 on the condition his last name not be used, came forward to say he had unwittingly driven through the abduction scene and all the way up the Rassier driveway on the night of the crime, before police arrived. The Stearns County Sheriff's Office, by then with Sheriff John Sanner at the helm, concluded that a set of unattributed tracks from the abduction scene belonged to Kevin, and that the abductor therefore must have been on foot. Once again, their attention turned to Rassier.
Investigators grilled him mercilessly, accusing him of Jacob's abduction and urging him to confess. Rassier, who can evince a biting indignation, said he laughed out loud and thought, "You've got to come up with something better than this." It never occurred to him to hire a lawyer. He just kept telling the truth, he said. "They are so stupid. They are idiots. They just get so lost in their own chaos of commotion and lies and dealing with some of these other people, they don't even know when to believe somebody who is telling the truth."
In 2010, the sheriff's office, with the assistance of state agents, searched the farm again. This time, they brought backhoes and removed six dump-truck loads of dirt, along with the base of a patio umbrella stand, a cedar chest, a box containing Wetterling-related newspaper clippings, and other items. The police found nothing connecting Rassier to the crime, but that didn't stop parents at one of the schools where he teaches from requesting that a paraprofessional be present to supervise his classes.
Feeling humiliated and under siege, Rassier wrote a long, detailed letter of outrage in 2012 and sent it to more than a dozen government agencies and officials, including Gov. Mark Dayton and U.S. Sen. Amy Klobuchar. "No innocent witness should ever have to go through what I have gone through with my family," he wrote.
The quiet life Rassier enjoyed before October 1989 vanished. Once, he had as many music students as he could handle for private lessons, but the number dwindled with his notoriety. Rassier said his life was utterly upended, and even after Heinrich's confession he harbors bitterness about the way the investigation was conducted.
"I'm not totally clear," he said. "How could I be totally clear? They have accused me of doing this for 27 years. You don't recover 27 years of time, you just don't get it back. I'm 60 years old. Twenty-seven years from now I'll be 87 but my state of physical health, I don't think I'll last that long."
---
More profiles
JACOB'S FATHER
Jerry Wetterling
More reserved than his wife, he struggled with the investigation and turned to psychics.
KILLER
Danny Heinrich
He originally denied connection to the case but now admits that he murdered Jacob and pointed authorities to his remains.