How colleges are mishandling racial tensions on campus
As administrators navigate issues of inclusion and free speech, students of color have been left to find their own way.
The Washington Avenue Bridge at the University of Minnesota spans the Mississippi River and connects the east and west sides of the Minneapolis campus. But in fall 2016, the bridge divided the school.
Every year in late September or early October, student groups are assigned blank panels to paint on the bridge to attract new members. At the start of the 2016 fall semester, this annual activity became another flashpoint in the nationwide debate over inclusivity and free expression on college campuses.
Abeer Syedah was a senior and the president of the university's student government at the time. Syedah, who describes herself as "a South Asian, American, Canadian, immigrant," is one of the few women of color ever elected to head student government at the mostly white university. The morning after the bridge painting, Syedah remembers waking up to a bevy of messages and photos from students upset about the slogan that the school's College Republicans had painted on their panel. It read, "Build the Wall."
Syedah was angry too. "How dare these people write something like that on a literal bridge. In this institution. Around these students. Do they not know what that means?" she said.
At the time, in the middle of a divisive presidential election, then-candidate Donald Trump had made the slogan a central theme of his campaign, a symbol of his promise to enact tough restrictions on immigration. And many critics had come to see the slogan as racist.
Some Minnesota students decided to protest on the bridge. For their part, the College Republicans responded that the message wasn't meant to be racist or anti-immigrant. It was a political policy statement.
But that wasn't enough to defuse the anger on campus. Within two days, someone vandalized the College Republicans' panels by writing "Stop White Supremacy" in large, gold spray paint.
Eric Kaler, then the university's president, released a statement decrying the vandalization of the panels. He encouraged those who found the College Republicans' message distasteful or offensive to engage in more protected speech.
But rather than defuse the controversy, Kaler's response seemed to make it worse. "That was like the notorious statement that did not go over well with the student body, the faculty, the staff, anyone," Syedah said. She said some students felt that Kaler and the administration had sided with College Republicans and weren't fully appreciating how hurtful and offensive the "Build the Wall" panel had been. To some students, it seemed that the administration cared more about free speech than creating an inclusive, welcoming campus culture.
And with that, Minnesota had joined the growing list of schools where racial and political divisions — and debates over the balance between free speech and inclusion — have roiled campus and often led to tone-deaf responses from administrators.
Some controversies, such as incidents at UC Berkeley or the University of Missouri, have made national news. At Berkeley, a planned appearance by alt-right figure Milo Yiannopolous in 2017 was canceled after violent protests. Missouri was the site of a hunger strike and peaceful protests in 2015 that resulted in the resignation of the university system president and the flagship campus' chancellor.
While those schools garnered the most attention, colleges across the country have seen similar controversies. Incidents of racial bias, racism and hate crimes are on the rise at colleges. The Anti-Defamation League reports a 7 percent increase in cases of white supremacy materials being found on college campuses — from 292 in the 2018 academic year to 313 in 2019. According to FBI data, hate crimes on college campuses increased year-over-year from 2016 through 2018.
Students rebuking, petitioning and protesting against speakers on campuses has been on the rise too. FIRE, a nonprofit that advocates for free speech in education, lists 130 instances of speakers either being disinvited or sparking sustained student efforts to disinvite them. Many of those clashes involved widespread petitions and student protests.
In March 2019, the Trump administration responded to the rise in what it called "hard left" student protests with an executive order attempting to hold colleges financially accountable if they don't protect free speech.
These controversies put administrators in a dicey position, seemingly having to simultaneously protect free speech and protect students from racial harassment. But experts who have studied racial tensions on campuses say this is a false choice. There are ways to both uphold free speech and foster an inclusive environment. They say that polarizing incidents of racial harassment or controversial speakers being protested at colleges can obscure the deeper problems on campus, the day-to-day experiences that make students of color feel unwelcome at their schools.
These experts echo students of color like Syedah, who say that administrators too often don't address or respond to student concerns about the racial climate on campus until a controversial incident happens. Instead, it often falls to students of color themselves to do what they think the administration should be doing: fostering a more inclusive campus environment. That can include organizing events and counter-protests or ensuring that classes and curriculum include non-white texts and perspectives or helping fellow students respond to incidents of racial harassment. At times, it can feel like an added unpaid job that students of color are taking on because, they say, the administration has done too little.
Minnesota student leaders interviewed by APM Reports said that if administrators would show more support for students of color in their day-to-day lives, then there would be more trust in university officials and the school's response to incidents like the bridge painting would seem more genuine. And schools have another major incentive to take campus climate more seriously: Data shows students of color are more likely to drop out.
One study, based on a survey of about 24,000 juniors and seniors in the University of California system, concluded that students of color tend to feel a lower sense of belonging on their campuses than white students. They feel less welcomed to new campus environments and feel like they get less academic support compared to white students.
Their sense of belonging can affect whether they remain in school and graduate. Students of color have lower graduation rates and lower retention rates than their white peers across the country, and researchers have found that the racial climate on college campuses is one reason why.
A report from the Higher Education Research Institute at UCLA found that the racial and ethnic composition of campus, the perception of campus as hostile or welcoming, and interaction across races all affect educational outcomes for students.
Another study from the University of Pennsylvania reinforced that white students and students of color experience the campus differently. It found students of color and white students to be frustrated with the gap between "espoused and enacted institutional values concerning diversity" at their schools.
Abeer Syedah said this gap was at the center of the bridge controversy at the University of Minnesota in 2016.
She said that Kaler putting free speech ahead of inclusivity in his campus-wide email was a mistake. She had seen this happen before, and her frustration at the university administration was further compounded by her time spent responding to incidents of racial harassment that her peers had faced.
Kaler, who stepped down as president in July, refused an interview request from APM Reports. But he told the university's newspaper, the Minnesota Daily, he "should have been more inclusive about recognizing the pain [the bridge incident] caused."
From Syedah's vantage point, it was too late. The false choice between inclusion and free speech had already been established and the implications set the tone for growing conflicts between protestors and the College Republicans.
Syedah said the College Republicans "were going to turn around and say, 'This campus hates free speech. This campus can't tolerate different opinions.' I knew exactly where this was going because they do it on purpose. Everything that was intended to be incendiary was intended to be incendiary."
Madison Faulpel, the College Republican president at the time, told Minnesota Public Radio that conservatives "do have to say things that are a little bit more 'out there' to get attention."
As with many other predominantly white institutions of higher education, the University of Minnesota doesn't reflect the diversity of its state. According to the Institute for Higher Education Policy , a lower percentage of students of color attend the University of Minnesota than the percentage that graduate from the state's high schools. The graduation rate gap between students of color and white students at the University of Minnesota has grown from 13 percent in 1997 to 16 percent in 2016.
A 2017 report from the Education Trust, a national nonprofit, classified the University of Minnesota as one of the worst performers in the graduation gap between white and black students out of the 676 institutions it looked at. The university had the 12th-highest graduation gap — 23.8 percent — between white and black students in the three-year span measured.
APM Reports talked with a group of experts on free speech and campus inclusion about how university leaders can protect both those ideals and better understand the racial tensions on their campuses.
The free speech experts
Jane Kirtley, a First Amendment expert and professor of media ethics and law at the University of Minnesota, said that threats to free speech on campus haven't been this severe since the 1960s.
"It's an intimidating environment for many who do not share mainstream viewpoints," Kirtley said.
She acknowledges that the university can also be an intimidating environment for marginalized students. She believes "the university should be a safe and welcoming place for everyone" but not a place for being insulated from or suppressing offensive ideas.
"The remedy is not to have somebody take care of you. The remedy is to speak out against the things that you disagree with, to take on ideas with which you disagree, and to stand up for yourself," Kirtley said.
She also recognizes that the university might be motivated to avoid controversy. "The University of Minnesota is in no way unique in that regard. That's the nature of any kind of bureaucratic establishment, that, it really doesn't want people to rock the boat."
Her answer to balancing competing interests of free speech and an inclusive environment is to look to the clear-cut interpretations of the First Amendment as explicitly defined by the U.S. Supreme Court.
She doesn't have a lot of confidence in people's ability to do that.
"There are times when I get exhausted, too, because I'm horrified by the fact that so many people not just at a university campus, but anywhere, really don't believe in the First Amendment. They just don't. They believe it to the extent that it supports their viewpoint. They are highly intolerant of viewpoints expressed with which they do not agree," Kirtley said.
But that's harder to do on campuses in which students — as with Americans in general — are increasingly divided from each other and less tolerant of those they disagree with. Jonathan Friedman, the project director for campus free speech at PEN America, said, "It's as though different people on campuses are inhabiting different realities about what's happening on college campuses."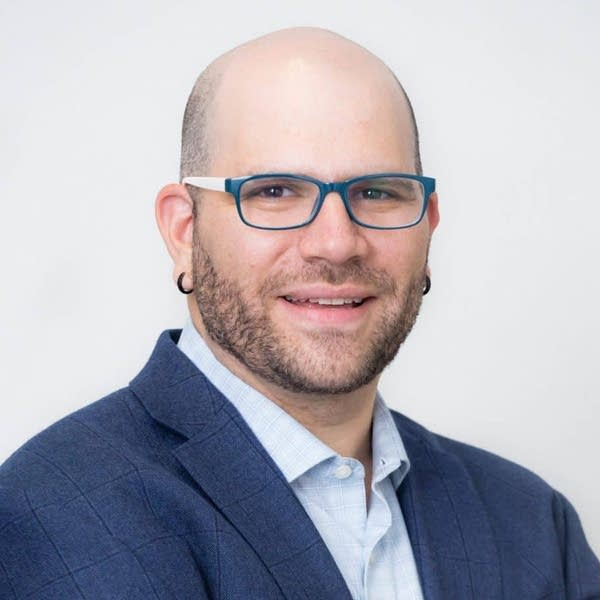 He said the tension between these different realities is at the core of many incidents we hear about, which often get reduced to an argument about free speech, "as though there isn't a dynamic involving multiple actors jockeying for claims to what the university stands for."
Friedman led the research and drafting of a 2019 PEN America report that wanted to push back on "oversimplified narratives" about what's happening on campuses while giving equal weight to legitimate concerns about free speech and inclusivity.
Friedman and PEN America, a nonprofit that focuses on freedom of expression, have been trying to offer the nuance that's missing from these controversies to create more understanding.
To PEN America, it's much more complicated than students simply believing or not believing in free speech.
"Failures of political leadership, persistent racism and bigotry, the weaponization of speech on digital platforms, and gaps in civic education are combining to undermine the consensus for an open marketplace for ideas," the PEN report said.
Friedman believes that what's happening on college campuses is not that different from what's happening in American society at large.
"But it's playing out on college campuses in these deeply symbolic ways, where, you know, basically groups on both sides don't really feel like they want to cede even a little bit of space to the other one's views," Friedman said.
Friedman said the added context can help understand the how different people respond to incidents on campus. For example, the events on the bridge at the University of Minnesota and the campus' reaction to the "Build the Wall" message are more than a request to be insulated from offensive ideas.
"We don't have to pretend like it's absurd that people have reacted so viscerally to that phrase when it's a phrase that has been associated with the detention of families crossing the border or it's a phrase that has strong racist overtones, even when used by the president," Friedman said. "So, on the one hand, we can say yes, you can use that phrase. But on the other, we can understand that it's a phrase that's going to trigger some strong responses."
Simply talking about these issues as a matter of free speech risks undermining support for it. A 2018 survey from the Knight Foundation found that 70 percent of college students favor a learning environment that allows all types of speech over one that places limitations on speech. That number has declined from 78 percent support in 2016.
A similar 2019 survey from the Knight Foundation still found majority support for no restrictions on free speech, but 41 percent of students surveyed drew the line at hate speech.
The amount of support varied based on the identity of those being asked. For example, 74 percent of all college men surveyed support hate speech protection, while that percentage was below 50 percent when broken down for black, women, Jewish, gay and lesbian, or transgender students.
The majority of survey respondents also said they feel like the political and social climate on campus hinders them from speaking freely.
That is why PEN America and Jonathan Friedman caution against the dangers of single stories about what's happening on college campuses.
"When we're talking about over 100 incidents on thousands of campuses across the country, it behooves us to understand the details of what really happened there with greater attention to their nuance, their subjectivity and their complexity," Friedman said.
The report's executive summary warned against the "caricatures" that are created without additional context, "the snowflake-liberals who do not understand the value of free speech, versus callous and complicit conservatives who hide behind free speech to promote noxious and hateful views."
The administrators
Rebecca Ropers, a vice provost for faculty and academic affairs at the University of Minnesota, invited PEN America and Jonathan Friedman to campus to facilitate a discussion on diversity and free speech in April 2019.
Ropers said she recognized the difficulty of navigating this tension on college campuses and wanted to provide space, especially for conservative students, to have room to do that.
"How do we have conversations — real conversations, respectful conversations — when some people feel like their identity and who they are is on the line," Ropers said.
But she also recognized there's an imbalance of power for historically marginalized students.
"I had somebody relatively recently tell me that when they walked across the bridge when some hateful language was up there, that was part of what they experienced as structural violence at the university. You think it feels a little bit trite to just say: 'Well, just answer it with more speech,'" Ropers said.
Ropers doesn't believe that the university can be an excellent institution if large groups of people feel excluded.
"There's literature suggesting that higher education can be either an instrument or a mechanism for mobility and opportunity and to increase that, but it can also be a vehicle through which privileged hierarchies are maintained," Ropers said.
Over the course of Ropers' career, she has witnessed an increasing ability for people that are marginalized on campus to articulate what is going on in their lives, but she doesn't see administrators and other students showing a commensurate ability to hear and acknowledge those experiences. She said that the university now knows more about managing diversity and free speech, but school officials don't always implement what they know.
"If administrators and faculty could have students' backs and continue to articulate the importance of free speech, while also saying, 'Yeah, and I really find that reprehensible," I think maybe that's a good strategy for academic leaders to take at this point," Ropers said.
But it can be difficult for administrators and, in effect, the university to adjust. Former University of Minnesota Regent Abdul Omari said the campus administration feels competing pressure to be supportive of students, stay true to their personal values, respect the board of regents above them, and try to remain apolitical in the name of maintaining state funding. Omari doesn't envy their position.
"I don't want that job, I'll tell you that much," he said.
Omari, who filled a student slot on the board of regents, said that during his time on the board, he encouraged administrators to stand up for what they believed about inclusivity, but he recognized how complicated that became, even when there was broad agreement.
In April 2019, students, faculty, student government, university administrators and President Kaler came together to recommend renaming buildings on campus that were named after former university leaders who supported discriminatory policies against black or Jewish students.
Despite buy-in from many important stakeholders at the university, the board of regents voted 10-1 against the recommendation for renaming. Omari was the only regent to vote in favor of the proposal to rename the buildings. He says the board perceived the students who were advocating for change as agitators.
"It was assumed that the students who wanted to change the names were the usual suspects, the troublemakers, the radical students of color and allies," Omari said.
He also said he felt pressure from all sides during his six years as a regent. He said he was accused of selling out or being passive by certain people who wanted him to do more for marginalized students. He was not recommended for a second term as regent despite leading the search for a new university president.
After three degrees from the university, a journey that began in 2004, Omari's attempt to work within the system is over for now.
In the meantime, students of color at the University of Minnesota, and across the country, are still left to respond to issues on campus.
The campus climate and racial equity expert
Shaun Harper is the director of the University of Southern California Race and Equity Center. He's been studying campus climate for 15 years by conducting focus groups with students across the country, and he said it's clear that different racial groups experience their campuses in different ways.
He said these differences are tied directly to student outcomes for black students.
"Far too many drop out of college because of the toxic campus climates, because of the everyday racism they experience, because they are oftentimes the only black student in every class on their schedule quarter after quarter, or semester after semester," Harper said.
These problems on campus aren't new to Harper, nor did they begin with the highly publicized 2015 protests at Missouri that sparked similar movements and demands for more racial inclusivity at the University of Minnesota and other campuses across the country.
"It wasn't that the experiences themselves were new, it's that students had just reached a breaking point," Harper said. "They had enough of the everyday racial trauma, racism, racial microaggressions and other experiences that had long been had by generations of students of color."
To Harper, the reactions to high-profile incidents of racial harassment, canceled speakers and student protests show how much administrators don't understand the problems with the overall racial climate on their campuses.
"They're delusional. They're absolutely delusional about the realities of race on their campuses. And they're also making presumptions about the goodness of their campuses and the climate," he said.
Despite a recent uptick in racist incidents and hate crimes on college campuses, he still finds administrators continuing to be reactive instead of proactive.
"They certainly could save themselves lots of time and money, but more importantly, they could save their students the trauma and the frustrating experiences and, frankly, the attrition of students of color who leave institutions because they are just fed up with the lack of institutional response to racism on campuses," Harper said.
He recognizes the extra efforts that students like Abeer Syedah have had to put into their campus experience as they try to finish their degree. He pointed out that students of color have to educate their peers and professors, bring extra texts to class to supplement curricula that exclude non-white voices, and call attention to racist statements and incidents of harassment on campus.
"It's the thing that I think about just about every day: The extra unpaid labor that students of color perform at their institutions in support of themselves, but also as an effort to try to get the institution to be better and more inclusive for future generations of students of color," Harper said.
At the University of Minnesota, student groups are preparing to paint the Washington Avenue bridge walls again, on September 27.
The current student government president, Mina Kian, remembers the 2016 incident well. She rose up through student government while Syedah was president.
As a woman of color, she says she's also put in extra work trying to create an inclusive and safe campus for her peers. She believes the racial climate on campus can change. "I don't think I would be giving away my free labor year after year if I didn't feel that my unique voice and presence in this organization can make that impact."